About 2 years ago, I wrote a post on
pallets
. And now, finally, I can share the finished product with you! I've had my pallet headboard hanging for probably a year now, so its appearance on the blog is long overdue.
I had originally found a pallet in a dumpster on our street. A neighbor was doing renovations and apparently wasn't a pallet fan. I rescued it and considered making it my headboard, but it was just too small. I would have had to frame it out with wood and I'm not really handy like that. It temporarily became a
shoe holder
. Worked great, but now I have a bookcase in my closet for shoes, so that pallet is gone.
While leaving work one day last year, I noticed a pallet leaning against our dumpster. It was big and beautiful! It has subtle circular marks on it. I'm almost positive is held the 5 gallon buckets of soy sauce that we received. The slats of wood were close together, which made it pretty, but super heavy. After asking my chef if I could take it (and receiving a yes along with a very strange look), a co-worker helped me stuff it into my trunk. I'm still not sure how it fit, but I'm so thankful it did!
I cleaned it really well and sanded it until it was super smooth. I used a tack cloth to remove all the dust.
Then came the fun part. How to hang this insanely heavy pallet so it would be secure enough to sleep under. Handy mom to the rescue! She suggested anchoring a couple pieces of 2 x 4 into the wall. The pallet sat on top of them, and we screwed the pallet into the wood on the wall. It's really secure now and isn't going anywhere!
Now, without further ado, meet my (kind of new) headboard.
In my old bedroom, the walls were a light celadon and the pallet stood out against them beautifully. When we moved, every single room in the new house was this beigey-tan color. I hate it in my bedroom, but the thought of painting is really unappealing right now, so beigey-tan it is!
In order to add a little something to the pallet to help it not blend into the walls, I stuck some vinyl wall decorations on. I considered painting the pallet, but this is not only easier, it's temporary. That way, whenever I paint my room, I can remove the birds and the pallet can go back to being beautiful plain wood. You can find similar ones
here
or
here
. There are so many styles of wall decals out there. You can pretty much find something to match any decor.
I love birds on a wire. In the top picture, the orange painting is one my mom did for me with the well-known quote from a Bob Marley song. The birds carried over into the tags and sign for my
booth
and into the header of my
Etsy store
. I'm slightly bird-obsessed, but only in decor. I'm not a big fan of actual birds...
You might have noticed that little string hanging inside the pallet. And if you didn't before, you probably do now! I hang lavender from that to dry. You can't see it unless you're standing to the side, but it makes my room smell pretty and peaceful! I love it. I should have hidden it before taking these pictures, but oh well!
So again, keep your eyes out for pallets! Just be sure to ask permission before taking any that you see around stores in case they reuse them. But if they're in dumpsters, they're fair game! Grab them and run! Then check out
this post
for more fun pallet ideas.
Update:
An anonymous commenter (thank you, random citizen!) brought up a very good and important point that I forgot to mention. When you find a pallet, be sure to find the stamp on it. It will usually be in black ink and enclosed in a square or rectangle border. If the code contains "HT" your pallet was heat-treated, not chemically-treated, and is therefore safe to use. However, if the code contains "MB" the pallet was treated with the chemical methyl bromide, and is not safe to use. Thankfully, most pallets being made in the US now are heat-treated and safe to use! Just be sure to check first!
Linking up with Mod Mix Mondays and Inspire Me Monday and Green Willow Pond and Thrifty Thursday and Maison de Pax and BeBetsy and Coastal Charm and My Repurposed Life and Common Ground and French Country Cottage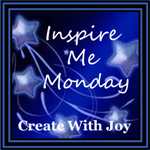 I was featured on
DIY Vintage Chic
!